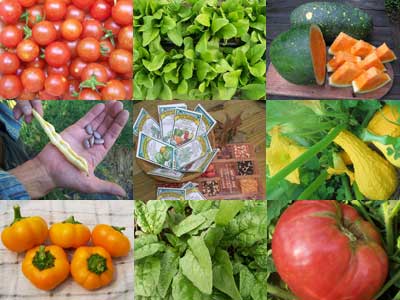 #1- Order seedlings. So many possibilities! As I peruse my two favorite seed catalogs -- Baker Creek Heirloom Seeds and Southern Exposure Seed Exchange, which arrived in the mail during the holidays -- the words from
The Urban Homestead
keep ringing in my ears: "every plant counts". Each plant must have a purpose whether it is to eat, share, sell or experiment. I usually try at least one experiment each season ... a plant I haven't grown before. Last year it was pumpkins (that was a HUGE success) and a large variety of new herbs (much less successful! I think I bit off more than I could chew. Plus, many of the seedlings died of neglect because I was undecided for too long about where to plant them.)
One strategy for choosing which plants to grow is what I call
Recipes in Reverse
. I am keeping a journal, noting the ingredients of the foods I prepare most often, and making my list from that. For example, a salsa garden will need tomatoes, green peppers,
jalapeños
, cilantro, onion and garlic. A soup garden needs lots of different kinds of beans, carrots, onions, potatoes, celery and herbs like parsley and thyme. An Italian garden, my favorite, requires Roma tomatoes, basil, oregano, garlic and onions. I am taking inventory of 2010 seeds I saved and 2009 seeds I have left over, and plan to place my order by the end of the week.
#2 - prepare for seedlings. The plastic walls of my homemade greenhouse deteriorated in the hot summer sun. Bummer. To restore it, we will have to dismantle the frame and re-apply the expensive plastic. I am not up for that since it looks to be an annual event. I have watched craigslist for a used greenhouse because my budget will not accommodate the new one I want (about $800). So, ever coming to my rescue, my wonderful husband has made a seedling station in his man cave (the heated space behind the garage where his stuff goes). He built a table on which the seedlings will rest with T12 fluorescent lights on chains above it. As the seedlings grow, I can raise the lights to keep them the recommended 4" above. The temperature is kept at 60 degrees and water is available from the sink. Everything seedlings and urban farmers need to be happy. I need to organize my left-over peat pots and potting soil, and buy what I need for this season.
#3 - prune and mulch fruit trees. Check
#4 - prune grapevines. I will wait until the end of the month to do this. I hope to have enough vine to use as trellis for climbing plants like beans and cucumbers. I saw a set-up, pictured here on
http://www.permies.com/
that uses twine dangled from a crossbar as a trellis. If I use grapevine instead of twine, I can throw the whole thing into the compost pile at season's end.
The rest of the month is spent keeping animals warm, fed and watered. This can be a challenge as the water freezes during the day, not just overnight, during this unseasonably cold winter. The caloric need of the animals increases to help stay warm while their ability to graze and browse decreases, with snow and ice on the ground. I refill the hay bins and chicken feeders a couple times a day. And cleaning up manure frozen to the ground calls for creativity and perseverance as well.